Spring Actuated Non-Reclosing Pilot-Operated Pressure Relief Device
Subscribe to Zeeco Updates
CATEGORIES:
<<< BACK TO BROCHURES
The ZEECO® Spring Actuated Non-Reclosing Pressure Relief Device - for accurate, safe pressure control.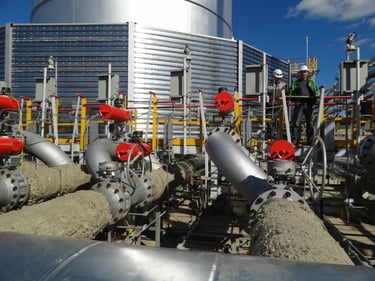 Zeeco's Spring Actuated Non-Reclosing Pilot-Operated (SA-NRPO) Pressure Relief Device is designedto relieve gas pressure in flare systems. While the system is most commonly found in ground flare systems, any flare staging application requiring a fail-safe bypass device can utilize the SA-NRPO Pressure Relief Device. In comparison to other bypass devices, Zeeco's SA-NRPO Pressure Relief Device eliminates the use of pins, has a very quick and simple reset procedure, and can operate at a relief set pressure as low as 0.25 psig. The SA-NRPO Pressure Relief Device can save you time, money, and materials.
A tightly-controlled manufacturing process achieves a precise pressure setting - time after time.
The device materials are purchased from certified suppliers with decades of industry experience. Each device consists of a minimal number of machined parts manufactured with tight tolerances. The high level of quality control used in the manufacture of the base materials as well as the machining process creates a consistent and repeatable performance of the pressure relief device.
Resetting the device is a one person job.
Local and remote failure indication switches display the status of the device's position. Following an overpressure event, re-setting the device can easily be done by a single operator in just a few minutes. An easily accessible design coupled with proven technology allows for reseating the device from outside the gas stream and with little downtime using only the push of a button. Opening the process line is not required.
Design Features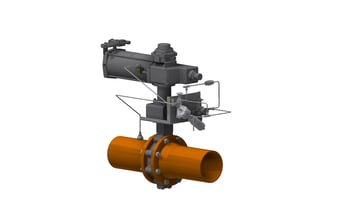 Design components that have been time tested for decades

Actuator sized to allow available air supply pressure to hold device in closed position

Predictable and repeatable opening rates

Easily hold tolerance of +/- 2 psig or +/- 5% for set pressures over 40 psig

Positive shut off until set point is reached

Re-seat the device in a matter of seconds with the push of a button

No fugitive emissions

In overpressure event, there are no pieces to separate in the device. No fragments flow to the downstream piping – a common issue with rupture discs.
Specifications
Constructed to ASME sections VIII and XIII, ASME UD stamp available

Standard body materials are available for operating temperature from -196ºC to 1000ºC

Capacity and Flow Resistance Certification as per Section 9 of ASME Section XIII

Quality documentation is available for all aspects of fabrication and testing

Standard documentation includes Device Certification Sheet, Performance Test Record, Hydro Test Record, and Leak Test Record

Standard sizes range from 6" to 96" with pressures from 0.25 to 500 psig
Download Brochure Now
<<< BACK TO BROCHURES