SteamForce HC
Smokeless Flaring with Dramatically Less Steam
The ZEECO® SteamForce HC™ straight tube design achieves smokeless flaring with dramatically less steam consumption and no pre-mixing of air and fuel gas. SteamForce HC uses a true venturi design, significantly increasing the inherent efficiency and decreasing dependence on fuel gas pressure and high rates of steam to achieve smokeless combustion.
Less steam saves money and reduces emissions generated from the production of steam.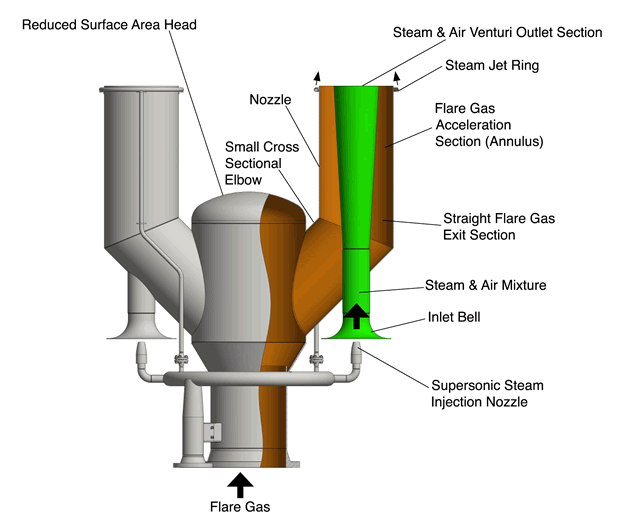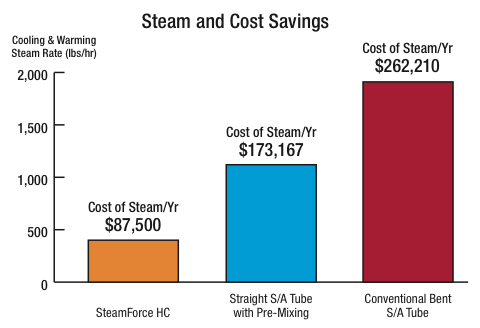 SteamForce HC solves the most challenging aspects of steam flaring today:
Longer Flare Tip Life
No Pre-Mixing Before Exiting the Flare Tip
Reduced Emissions Through Dramatically Lower Steam Demands
Lowest Cost of Operation
Less Dependent on Fuel Gas Pressure for Smokeless Operation
Smokeless Operation at Lower Flow Rates
Given a flare gas pressure of 3 psig at maximum flare gas flow with smokeless operation at 20% of maximum flow, flare gas flow rate to achieve smokeless operation was a mere 0.12 psig – versus other designs which require flare gas pressures of up to 5 psig to achieve smokeless operation.
Revolutionary SteamForce HC Technology
The air and steam mixture leave the flare at the same elevation as the flare tip exit – no pre-mixing. Because other industry designs pre-mix the air and steam with the flare gas prior to exiting the flare tip, they are forced to operate at higher enriching rates to compensate.
The SteamForce HC maximizes the amount of air entrained by a given amount of steam. With more air flow, less purge steam is required to protect the equipment during low flow scenarios.
SteamForce HC improves flaring efficiency and reduces steam consumption while meeting EPA Code of Federal Regulations, Chapter 1, Subchapter C, Part 63, Subpart CC requirements – and can do so at lower steam and purge rates than any other competitive offering.
Zeeco's SteamForce HC makes a dramatic difference for companies who want a lower cost of ownership, lower emissions, and a flexible design in a flare tip that will operate smokelessly with less steam at lower flow and purge rates than competitor offerings.