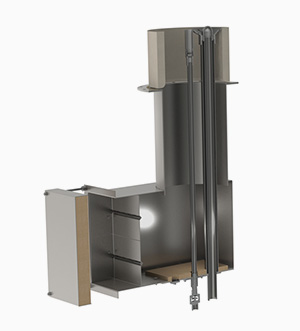 GB Single Jet Round Flame Low Emissions Burner
Zeeco's GB Single Jet Burner is based upon existing conventional burner design, with the incorporation of staged fuel, staged air and internal flue gas recirculation. This design allows low emissions to be achieved in difficult applications which have limited mounting space, high heat densities, and close burner to burner spacing.
Burner Description:
The Zeeco GB Single Jet Burner's non-symmetrical design utilizes internal flue gas recirculation and staged air to achieve NOx emissions reduction in one simple burner design with only one fuel gas tip and or one fuel gas riser.
Burner Design Features:
Round flame, gas only burner design
NOx reduction method: internal flue gas recirculation, staged fuel, & staged air
Combustion air induction: natural, forced, induced & balanced draft, or turbine exhaust
Mounting options: up-fired, side-fired and down-fired
Compact design makes this burner a great choice for retrofit applications
Compact flame shape
Reasonable cost and great value
Configurations available: plenum mounted or individual wind-box
Burner Design Information
| | |
| --- | --- |
| Burner Model: | Round Flame, Gas Only |
| Fuels: | Gas Only |
| Description: | Round Flame Burner |
| NOx Reduction Method: | Staged Air, Staged Fuel, & Internal Flue Gas Recirculation |
| Predicted NOx Range (Natural Draft): | 20 ppmv to 49 ppmv (40 mg/Nm3 to 100 mg/Nm3) |
| Natural Draft Heat Release Range: | 1 MM to 20 MM Btu/hr [0.293 to 5.860 MW] |
| Forced Draft Heat Release Range: | 1 MM to 75 MM Btu/hr [0.293 to 21.980 MW] |
| Turndown: | 10:1 or Greater for Most Cases |
| Design Excess Combustion Air | 10% to 25% for Most Cases |
| Natural Draft Combustion Air Pressure Drop: | 0.2" to 1" (5 to 25 mm) H2O |
| Forced Draft Combustion Air Pressure Drop: | 0.5" to 10" (12.7 to 254 mm) H2O |