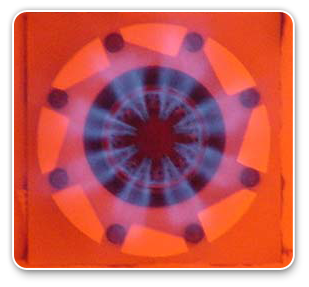 GLSF Min-Emissions Down-Fired Gas Burner
The picture in our gallery is Zeeco's GLSF Min-Emissions down-fired burner firing with Refining Fuel Gas in the outer tips and PSA gas in the center tip. This design provides a flame shape that is normally the same width as the outside diameter of the burner tile allowing the burners to be installed in close proximity to each other.
Burner Description:
The Zeeco GLSF Mini-Emissions burner is an Ultra-Low emissions round flame burner.
Burner Design Features:
Stable flame over a wide range of conditions
High turndown of 5:1 or greater for most cases
No stabilization metal used in the burner throat
Low maintenance cost since tip mass is small and exposed into firebox less than 1" (25 mm)
Compact design makes this burner a great choice for retrofit applications
Compact flame shape
Great heat flux profile
Reasonable cost and great value
Combustion air dampers are controlled by gears for precise control
Bearings are used for the combustion air damper shafts for smooth, precise operation
Configurations available: plenum mounted or individual wind-box
310 Stainless Steel (Type HK) gas tips
Burner Design Information
| | |
| --- | --- |
| Burner Model: | GLSF Min-Emissions Burner |
| Fuels: | Gas Only |
| Description: | Round Flame Ultra-Low Emissions |
| NOx Reduction Method: | Internal Flue Gas Recirculation by Free-Jet Mixing |
| Predicted NOx Emissions Range (Natural Draft): | 32 ppmv to 70 ppmv |
| Predicted NOx Emissions Range (600°F/316°C Air Preheat): | 45 ppmv to 100 ppmv |
| Combustion Air Induction: | Natural, Forced, Induced & Balanced Draft |
| Mounting Options: | Down-fired |
| Natural Draft Heat Release Range: | 1 MM to 12 MM Btu/hr [0.293 to 3.516 MW] |
| Forced Draft Heat Release Range: | 1 MM to 18 MM Btu/hr [0.293 to 5.274 MW] |
| Turndown: | 5:1 |
| Typical Excess Air Range: | 10% to 25% |