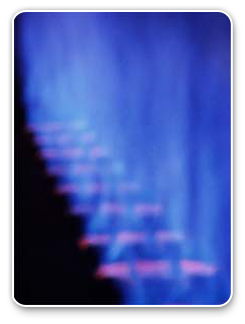 GLSF Min-Emissions Round Flame Gas Burner
This photo shows Zeeco's GLSF Min-Emissions round flame burners in operation.
The design allows for a compact flame shape which is basically the width of the burner tile making Zeeco's burners a great choice for applications that require the burners to be mounted close together or far apart while still achieving Ultra-Low NOx.
Burner Description:
The Zeeco GLSF Minimum Emissions, gas only burner is an ultra-low emissions burner designed to provide a round flame shape for process type heater applications.
Burner Design Features:
Round flame, gas only burner design
NOx reduction method: Internal Flue Gas Recirculation (IFGR) by mixing the gas fired from the secondary gas port with the inert products of combustion which lowers thermal NOx production
Combustion air induction: natural, forced, induced & balanced draft, or turbine exhaust
Mounting options: up-fired, side-fired, and down-fired
Stable flame over a wide range of conditions
No stabilization metal used in the burner throat
Low maintenance cost since tip mass is small and exposed into firebox less than 1" (25 mm)
Compact design makes this burner a great choice for retrofit applications
Compact flame shape
Great heat flux profile
Reasonable cost and great value
Combustion air is controlled by gears for precise control
Bearings are used for the combustion air dampers for smooth, precise operation
Configurations available: plenum mounted or individual wind-box
Burner Design Information
| | |
| --- | --- |
| Burner Model: | Round Flame, Gas Only, Ultra-Low Emissions |
| Fuels: | Gas Only |
| Description: | Round Flame Burner |
| NOx Reduction Method: | Ultra-Low Emissions |
| Predicted NOx Emissions Range (Gas Fired): | 15 ppmv to 48 ppmv (30 mg/Nm3 to 100 mg/Nm3) |
| Combustion Air Induction: | Natural, Forced, Forced Air Pre-Heat, & Turbine Exhaust |
| Mounting Options: | Floor, Sidewall, End-Wall, & Roof |
| Natural Draft Heat Release Range: | 0.25 MM to 12 MM Btu/hr [0.073 to 3.516 MW] |
| Forced Draft Heat Release Range: | 1 MM to 50 MM Btu/hr [0.293 to 14.650 MW] |
| Turndown: | 5:1 Gas |
| Design Excess Combustion Air | 10% to 25% for Most Cases |
| Natural Draft Combustion Air Pressure Drop: | 0.2" to 1" (5 to 25 mm) H2O |
| Natural Draft Heat Release Range: | 0.25 MM to 12 MM Btu/hr [0.073 to 3.516 MW] |