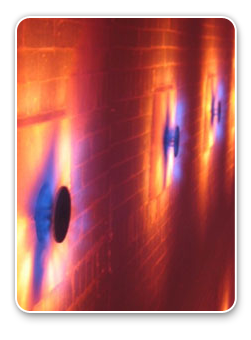 RWFD Forced Draft Radiant Wall Burner
View our gallery to see Zeeco RWFD burners in operation. The RWFD burner does not pre-mix the gas and the combustion air together so there is no possibility of flashback during normal operating conditions.
Burner Description:
The Zeeco RW burner is a forced draft radiant wall burner.
Burner Design Features:
Stable flame over a wide range of conditions
Turndown of 10:1 or greater for most cases
No flashback
Low NOx emissions
Long service life
Operations with a wide range of fuels
304 Stainless Steel spun venture / mixer
310 Stainless Steel (Type HK) gas tip
Burner Design Information
| | |
| --- | --- |
| Burner Model: | RWFD Forced Draft, Radiant Wall Burner |
| Fuels: | Gas Only |
| Description: | Forced draft, radiant wall burner |
| NOx Reduction Method: | Flue Gas Entrainment |
| Predicted NOx Emissions Range: | 18 ppmv to 120 ppmv |
| Combustion Air Induction: | Forced & Balanced Draft |
| Mounting Options: | Side-fired |
| Natural Draft Heat Release Range: | 0.25 MM to 3.5 MM Btu/hr [0.073 to 1.026 MW] |
| Turndown: | 10:1 |
| Typical Excess Air Range: | 10% to 15% |