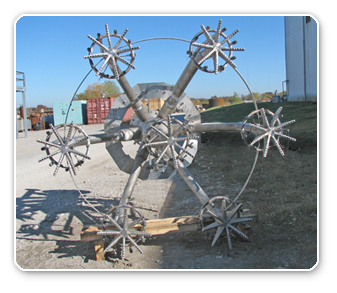 Multi-Jet Gas Assisted
Zeeco's Multi-Jet Gas Assisted flare tip assembly is used for smokeless burning of low pressure, heavy hydrocarbons. This Zeeco flare tip assembly is commonly used for applications associated with the flaring of low pressure or medium pressure gases from separators for offshore and onshore production facilities. These facilities commonly have no steam available to use for smokeless burning of heavier hydrocarbon gases, necessitating the use of air assist or high pressure gas assist.
Zeeco normally uses high-pressure natural gas as the assist medium to inspirate air, create turbulence, and produce smokeless burning in MJGA systems. The benefits to this approach include:
Our MJGA flares divide flare gas into multiple small-diameter nozzles at the flare tip exit point, allowing for much better air accessibility.
The smaller flames from these multiple nozzles and increased access to the surrounding air results in lower assist utility requirements and higher smokeless flow rates. This increases the efficiency of injecting assist gas for smokeless burning.