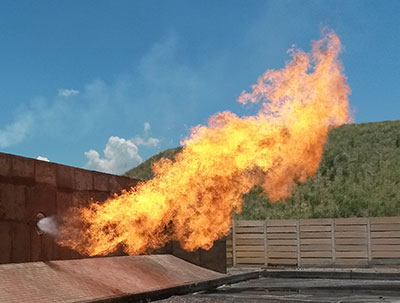 Liquid Flares
Some processing applications must dispose of off-specification, excess, or production liquids. Liquid Flares are a safe and effective method for disposing of this waste.
Applications
Liquid Flare systems operate to dispose of wastes from the following applications:
Production well testing
LNG plants
Flare system knockout drums
Lubricating fluids
Pipelines
Other applications
Flare Types
Zeeco designs liquid flares for both smokeless and non-smokeless waste fluid combustion. Smokeless flares require specialty systems designed to use either an outside source or utility to achieve smokeless burning (such as steam, air, gases, or water). The smokeless system may also utilize high pressure in the incoming fluid stream to atomize the wastes and promote smokeless combustion. Zeeco's staff members have extensive experience in design, fabrication, and operation of Liquid Flare systems. Put our experience to work for you!