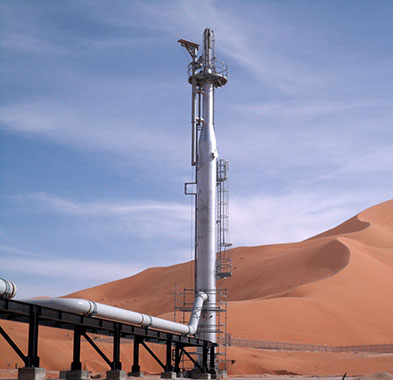 ZEECO® Non-Assisted/Utility Flares
Zeeco's non-assisted flares and utility flares are used in applications that don't require smokeless operation, or where smokeless operation can be achieved without the assistance of external steam, air or pressure.
Utility flare tips are used for combustion of gases that do not produce smoke, gases with a low heating value, or for installations where smokeless combustion of heavy hydrocarbons is not required. Utility flare tips are one of the lower capital cost options for safe disposal of waste gases.
Zeeco's UF style flare tip assembly utilizes a unique arrangement of proprietary flame stabilization tabs to ensure stable and high efficiency flaring through the entire design range of flows, from maximum emergency flaring to purge gas flow rates. The flame stabilization tabs work in conjunction with constantly burning pilot assemblies to ensure ignition of the waste gas. The flame stabilization tabs create a low pressure zone at the perimeter of the flare tip gas exit point, providing an area of slow moving gases that can be easily ignited by the pilot assembly. Zeeco flame stabilization tabs are unique, fully investment cast assemblies, mounted to the flare barrel using plug welds, to avoid stress risers and to eliminate cracking associated with linear welding in high heat zones.
Zeeco offers complete skid-mounted and trailer-mounted flare assemblies, as well as aftermarket products, services and engineered solutions.