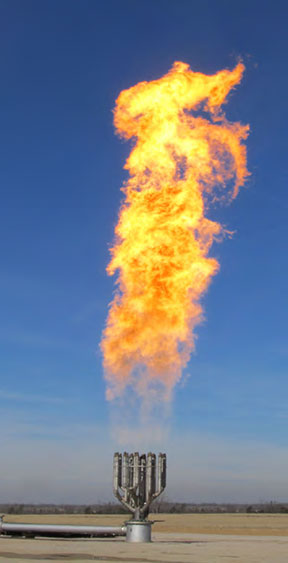 Variable Jet (VariJet)
The ZEECO® Variable Jet (VariJet) flare tips are high pressure tips that use the energy of a high pressure gas stream to improve smokeless performance. To enhance the tip's ability to capitalize on high exit velocities and superior mixing that result from high gas to air surface area ratios, each arm of the VariJet tip incorporates a self actuated variable exit area assembly that opens as necessary relative to internal pressure to ensure operation at high exit velocities over a wide range of flow rates. By operating at a high exit velocity, the flare does not require any additional assist media such as steam or air to operate smokelessly, even at low flow rates. This type of flare tip gives the normal benefits of a high pressure sonic flare, such as well defined and erect flame patterns and low fractions of heat radiated over a much wider range of flows; which leads to lower radiation levels on platforms and at ground level.
The operation of the VariJet is controlled by the incoming flare gas pressure that causes the exit area to vary, thereby providing a constant backpressure and high exit velocity across the full operating range. Through the utilization of varying exit area, purge gas requirements for the VariJet are the lowest of any flare type. Additionally, using this technology allows the VariJet to be mounted and function well when firing at an angle or even horizontally.
Applications
Offshore and onshore oil and gas production, gas compression facilities, gas pipelines, LNG process plants, grassroots petrochemical/olefins/polyolefins facilities
Advantages
High stability, low fuel consumption pilots are standard
98.5% or higher hydrocarbon destruction efficiency
Superior materials and construction features
Non-assisted smokeless operation
Low radiation levels
Liquid carryover flaring requirements
Mixed phase discharge capability
Smaller knockout drums and piping
Very large gas capacities with high smokeless requirements
Shorter flame length