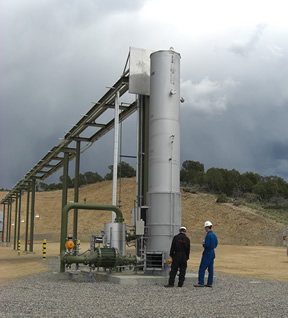 Vapor Combustors
Zeeco's fully automated Vapor Combustor Units (VCU) are put to work primarily in liquid loading and tank storage operations where they effectively destroy the harmful emissions that would otherwise be released to the atmosphere. Zeeco's vapor combustors are fully enclosed, operating in similar fashion to a thermal oxidizer, with destruction efficiencies that meet or exceed the most stringent clean-air standards. Designed for automatic starting and stopping, these high-efficiency vapour combustors operate with a wide range of products with no smoke or visible flame.
Features:
Liquid loading rates up to 50,000 bph per unit
Destruction efficiencies greater than 99.9%
High turndown capability.
Smokeless performance from 0% to 100% operation.
Detonation arrestors attached to the combustor stack to prevent flashbacks into terminal piping.
Operation can be tied into pump operations to turn system on and off when needed for loading operations.
Anti-flashback burners
Combustor burner assembly allows auxiliary air from the air assist blower to mix with the vent vapors and establish combustion while tempering air (for temperature control)
Air-assist blower designed for staged air flow to adjust for varying vent vapor flow rates
Controls system with fully automatic flame ignition and monitoring
Combustor stack with temperature recorder for state recording purposes.