Zeeco China
SHANGHAI, JINSHAN, SHANGDONG
Zeeco (China) Engineering and Equipment Co., Ltd. is a wholly-owned subsidiary of Zeeco, Inc., and the regional headquarters in China. Zeeco China is equipped with an office in Minhang District, Shanghai, a factory in Jinshan Industrial Zone, Shanghai, and an office in Dongying, Shandong.
Zeeco China provides engineering design and manufacturing for Zeeco's full production line, covering design, fabrication and installation of ultra-low nitrogen burners, flare systems, incinerators and third-party system upgrades.
The customers we have served include Sinopec, PetroChina, CNOOC, SABIC, DOW, BASF, Formosa, Ineos, Celanese, Worley, Yanchang Petroleum, Zhejiang Petrochemical, Hengli Petrochemical, Yankuang Lunan Chemical, etc. Meanwhile, we work in concert with top engineering companies/design institutes in the industry to deliver cleaner and more economical system solutions and turnkey projects.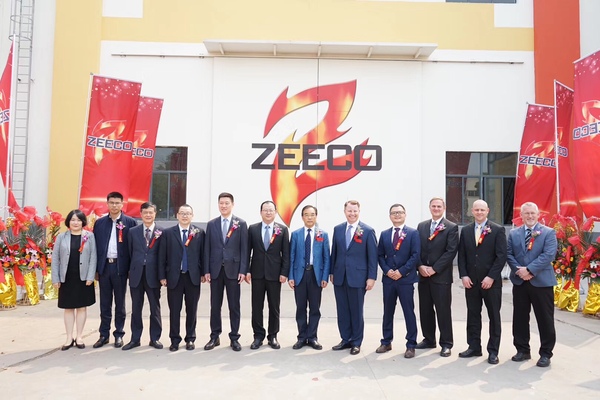 Zeeco China Shandong Office
Zeeco China Shandong Office officially opened in 2021, which is Zeeco China's sales and service center in North China to continue business expansion and further develop the clean combustion market in the region. Shandong Office is located in Dongying, which concentrates most petrochemical companies of Shandong. Through in-depth study of the local combustion needs, promoting the whole Zeeco production line, and more timely and efficient on-site services, Zeeco China can better serve local companies to achieve cleaner production process and improve operation efficiency under the increasingly strict environmental protection policies.
Zeeco China plant phase I covers an area of nearly 10000 square meters, equipped with a complete set of advanced production and manufacturing equipment, which can meet the needs of manufacturing full-scale burner, flare equipment, thermal oxidizers and spare parts. The workshop was designed by function, armed with 8 cranes with the lifting capacity of 30 tons and the maximum lifting height of 11 meters.
In 2020, Zeeco China completed the phase II construction of the plant, which expanded by 4600 square meters. The new workshop is mainly for installation of control racks, duct burner manufacturing, product storage and transit. Zeeco China also plans to set up a dust-free electrical laboratory for the R&D of the control system and electrical instruments.
The completion of phase II plant marks the upgrading of Zeece China to become a global manufacturing and R&D center, serving customers and markets across the world. Meanwhile, through undertaking overseas projects, Zeeco China plays a vital part of the globalization of Zeeco, Inc.
Sales and engineering of all legacy products
Drafting, process design, mechanical design, project management and execution
Rental flares, thermal oxidizers, and vapor combustors
Advanced modelling capabilities including CFD modelling, finite element analysis, physical, and 3D modelling
Manufacturing of burners, flares, thermal oxidizers / incinerators, vapor control, control skids, spare parts and larger heavy fabrication.
Global delivery
Replacement, retrofits & upgrades
Installation, startup, commissioning & training
Procurement and logistics
Quality control inspection for local fabrication
Rapid respond with 24 hours
Physical airflow modeling laboratory
Dust-free electrical laboratory
Multi-national Corporation Regional Headquarters
ISO 9001:2015 quality management system certification
ISO 14001:2015 environmental management system certification
ISO 45001:2018 occupational health and safety management system certification
ASME U, S, R, NB stamps
Chinese GB production licenses of pressure vessels/pressure piping