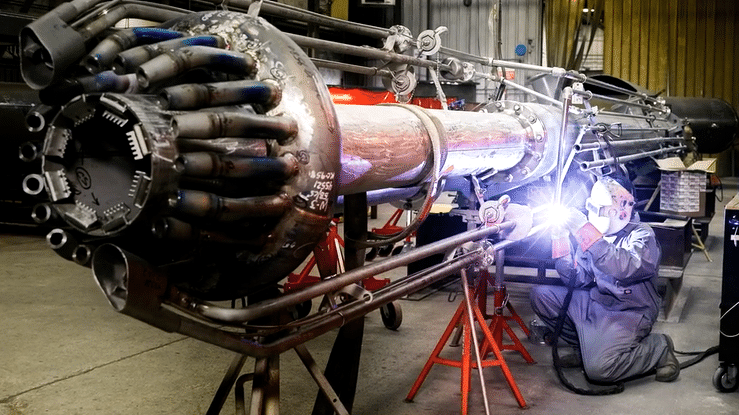 Innovation
INDUSTRY-LEADING TECHNOLOGY AND EXPERTISE
Innovation is at the core of everything we do at Zeeco. We strive to understand customer and industry requirements, and then design, deliver, and maintain combustion and environmental solutions that work safely, reliably, and efficiently. Browse the topics on this page and discover how our innovative spirit is reflected in every aspect of our company - from world-renowned engineers and industry experts to cutting-edge modeling, robust testing, in-house manufacturing, and more.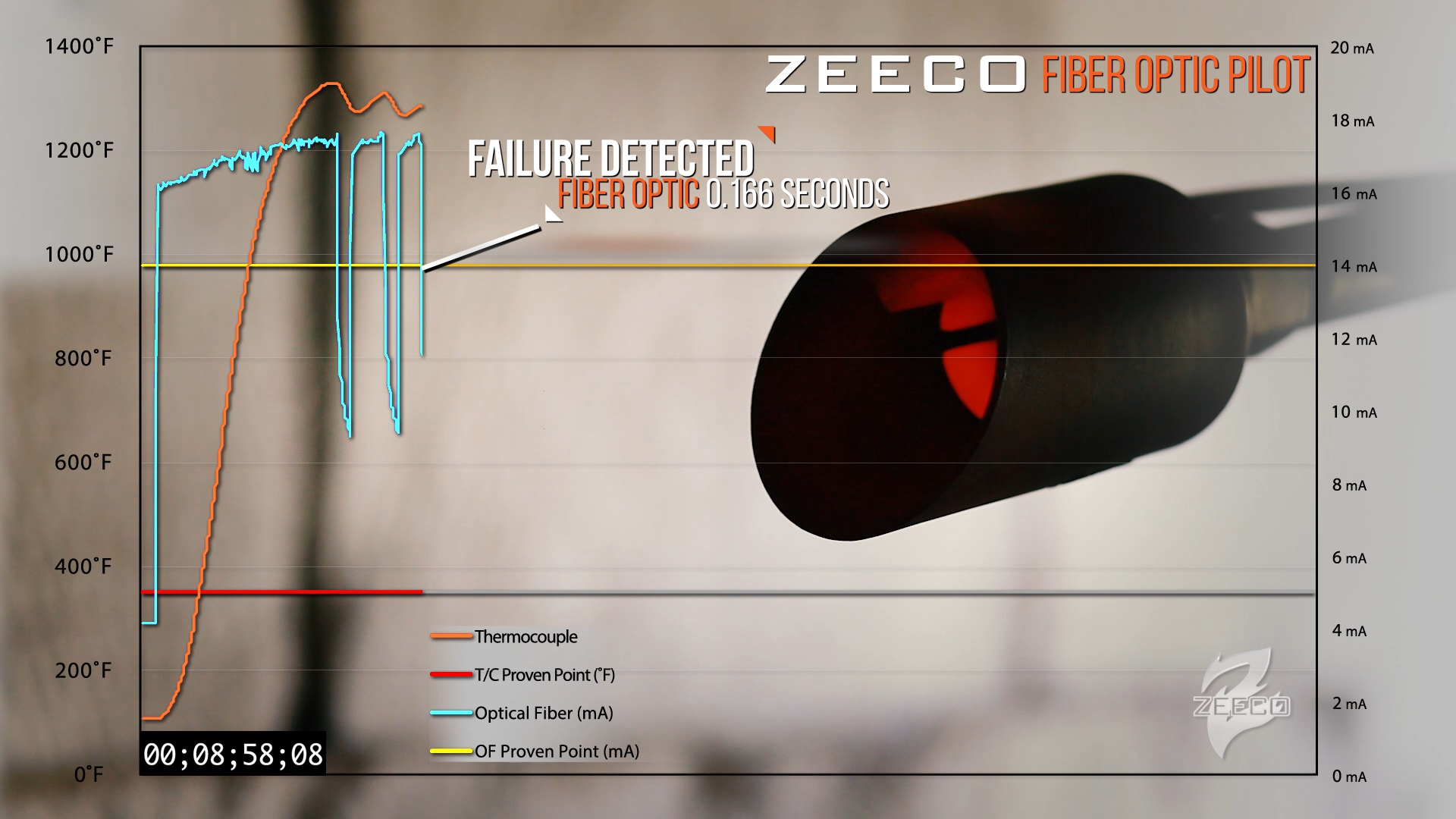 Environmental, Social, & Corporate Governance (ESG)
At Zeeco, we are committed to cultivating a safe, inclusive, and responsible work environment. As part of our commitment, we engineer and produce products, services, and solutions that contribute to a sustainable future. In doing so, we drive long-term business value while acting as a steward of our people, the environment, and the communities we serve.
7 Strategically Located Global Manufacturing Facilities
We are peerless in our industry as the only full-scale combustion company with global, in-house manufacturing and heavy fabrication capabilities. Each of Zeeco's seven manufacturing facilities is equipped with state-of-the-art fabrication equipment and complies with local and international standards, codes, and approvals necessary to serve our global customers. We positioned each facility strategically to support 25+ Zeeco locations worldwide and ensure rapid response and delivery to our global customers.
Oklahoma, USA (HQ)

Mexico
United Kingdom
South Korea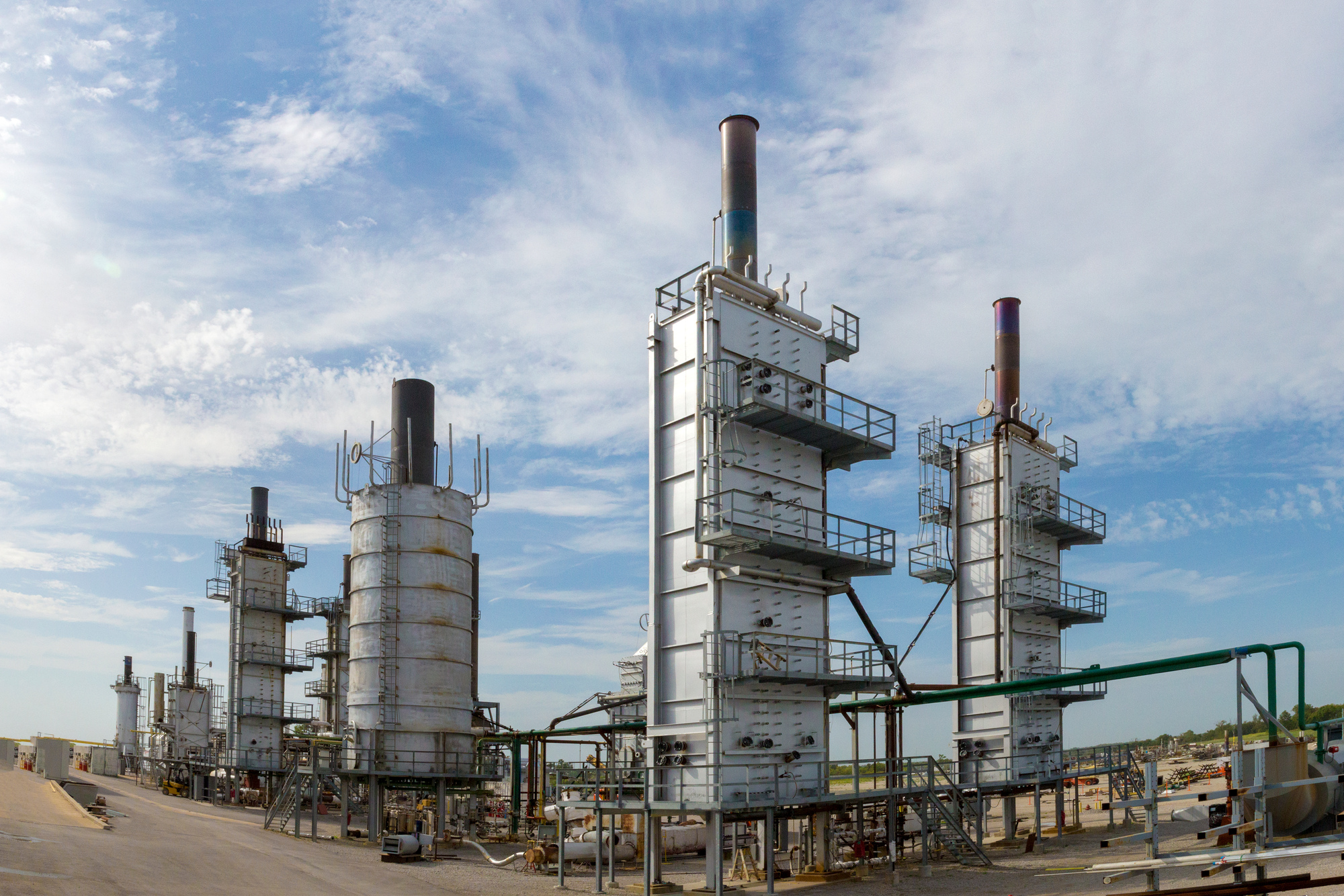 Research, Development, & Testing
3 Global Test Facilities
Zeeco's expert engineering group goes the extra mile with every combustion solution we design and our standard approach is anything but standard. The result? Combustion solutions with reliable, superior results and systems that last significantly longer. The same commitment to excellence applies to our testing processes. We operate three combustion research and test facilities around the world to stay ahead of rapidly changing emissions requirements and fulfill our customers' needs for quality combustion and environmental solutions.
Oklahoma, USA
United Kingdom
South Korea
World's Largest Combustion Research and Test Facility
The facility at our global headquarters in Broken Arrow, Oklahoma, is the largest globally and the first of its kind to be ISO 9001 certified. With seventeen (17) full-scale combustion test furnaces, Zeeco can test a wide variety of burners and accurately simulate field conditions. Ten (10) furnaces are capable of firing two (2) or more burners, and five (5) of those can fire more than seven (7) test burners at the same time.
Multiple liquid and gaseous fuels are available to simulate refinery fuel gas or customers' specific fuels. Fuel gases are simulated by blending Tulsa Natural Gas with Hydrogen (H2), Propane (C3H8) and are blended in proportions to closely match the specific gravity and lower heating value (LHV) of actual fuel gases. Additional components such as Nitrogen (N2), Carbon Dioxide (CO2), Propylene (C3H6), Butene (C4H8), Butane (C4H10), and Pentane (C5H12) can also be utilized.

Liquid fuels are generally simulated with No. 6 Oil, No. 2 Oil, Naphtha, Pentane, Gasoline, and Kerosene. Customers may also provide their fuels for testing.

Zeeco's combustion testing capabilities are not just limited to burner testing. Zeeco is equipped to conduct demonstrations on a full range of flare equipment, including air-assisted, steam-assisted, enclosed, and ground flares. Zeeco has the fuel storage, supply, and blending capabilities to provide flare testing and demonstrations for very high-capacity relief conditions and a wide range of flare gas compositions and conditions.

We can collect information and data on the test, including radiation, noise, flame characteristics, smoke Ringleman factor, pressure, exit velocity, flame stability, emissions, and combustion efficiency, as well as collect samples to confirm compositions. Zeeco's sophisticated equipment provides in-depth analysis, such as sampling systems, FLIR cameras, and more.

A multi-stream incineration system is also in place for testing complex thermal oxidizers.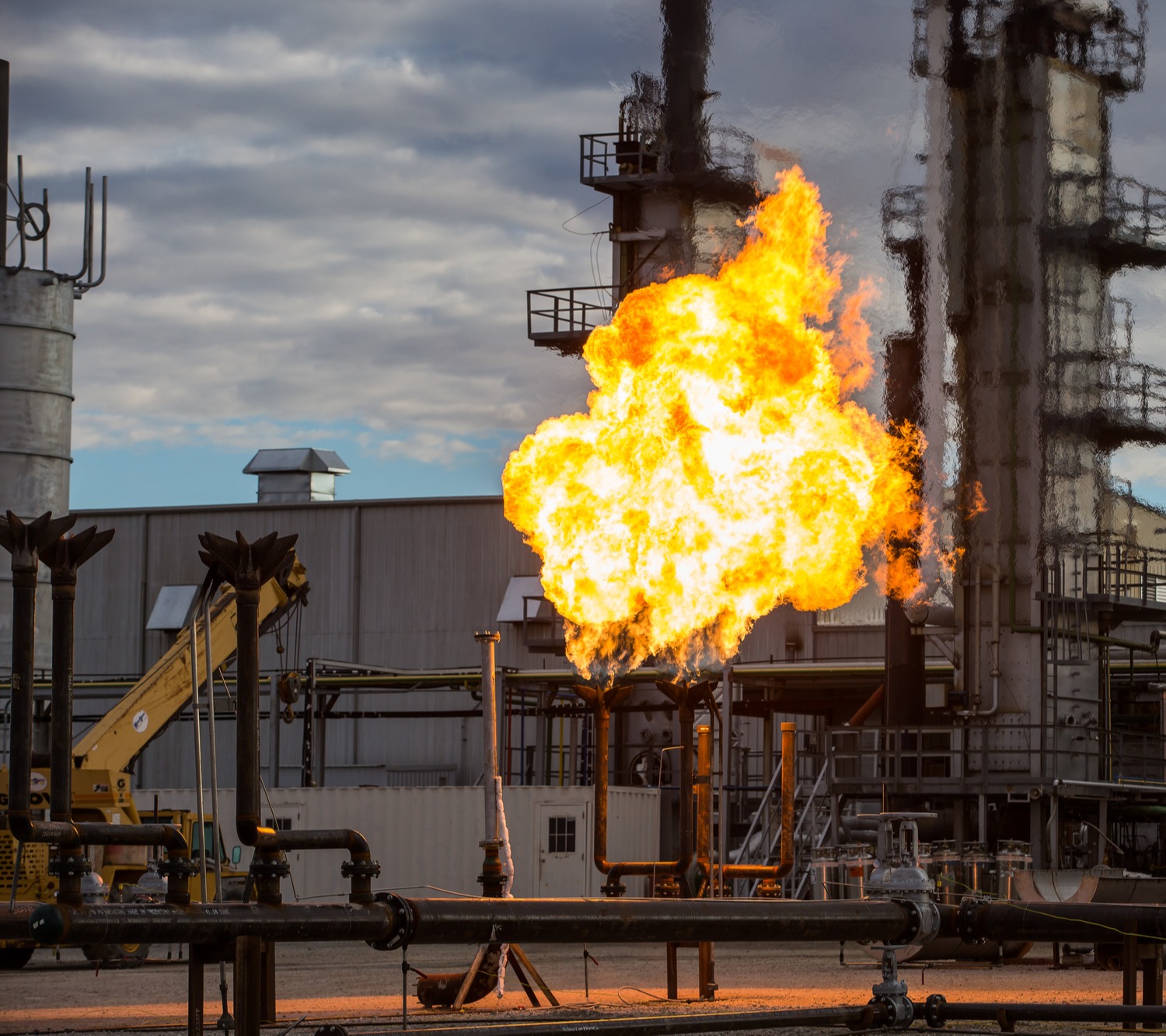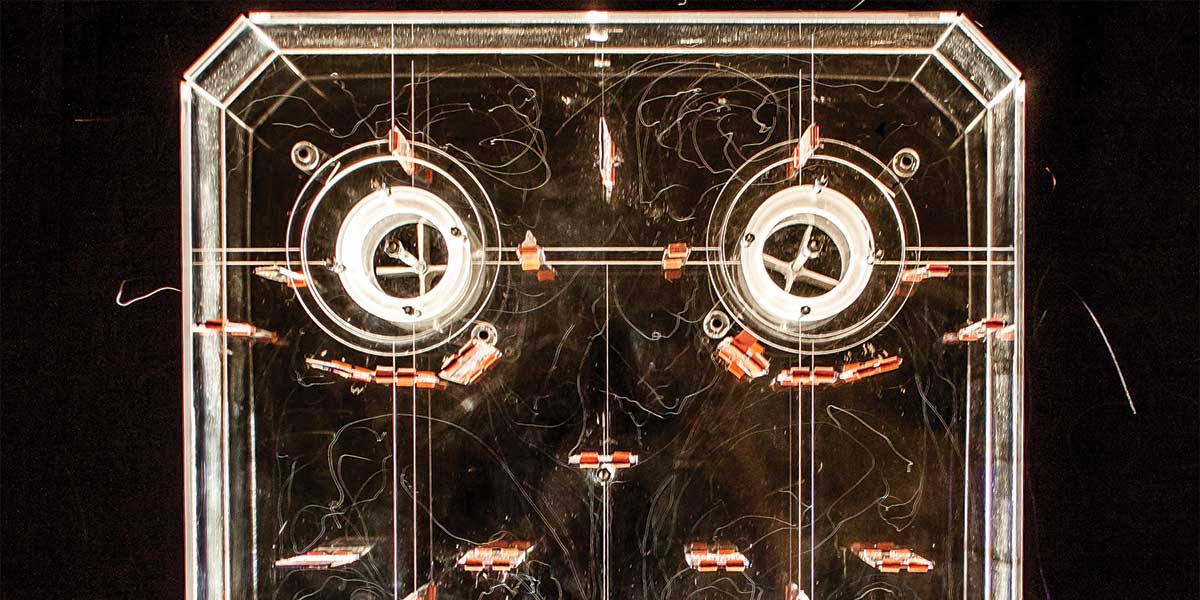 Physical Airflow Modeling
Two Global Laboratories (USA & China)
Zeeco is the only major combustion company that offers physical airflow modeling to provide clients with real-time performance feedback. This inexpensive modeling technique helps burner engineers assess, analyze, modify, correct, and design airflow systems for single and multi-burner applications. Zeeco combustion experts construct scaled-down wind boxes from plexiglass, utilize blowers to simulate airflow through the system, and adjust baffle locations to find the optimal airflow solution.
After all, 95% of the mass flow through a burner is air. Physical airflow models accurately reflect field conditions and can take the guesswork out of the optimization process to:
Eliminate boiler vibrations

Eliminate flame fit and impingement issues

Lower emissions and pressure drop

Increase efficiency and turndown

Ensure even airflow distribution across multiple burners

Solve existing combustion issue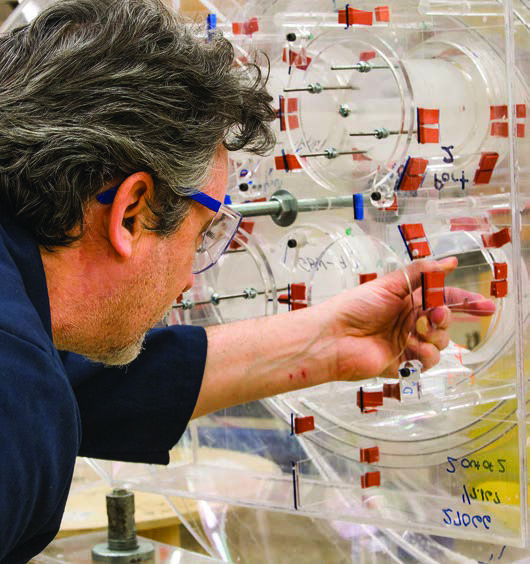 CFD & FEA Simulations
We use High-Performance Computing (HPC) systems to perform Computational Fluid Dynamics (CFD) and Finite Element Analysis (FEA) simulations. Using computer-based solutions and techniques, we can demonstrate product efficiency and integrity to our customers, even for the most complex combustion systems. We also utilize HPC systems in direct collaboration with our testing facility to validate our computational models and create virtual prototypes for product development, testing, and optimization.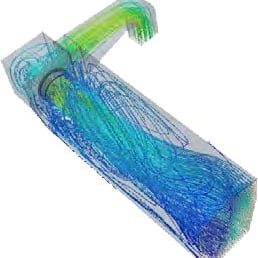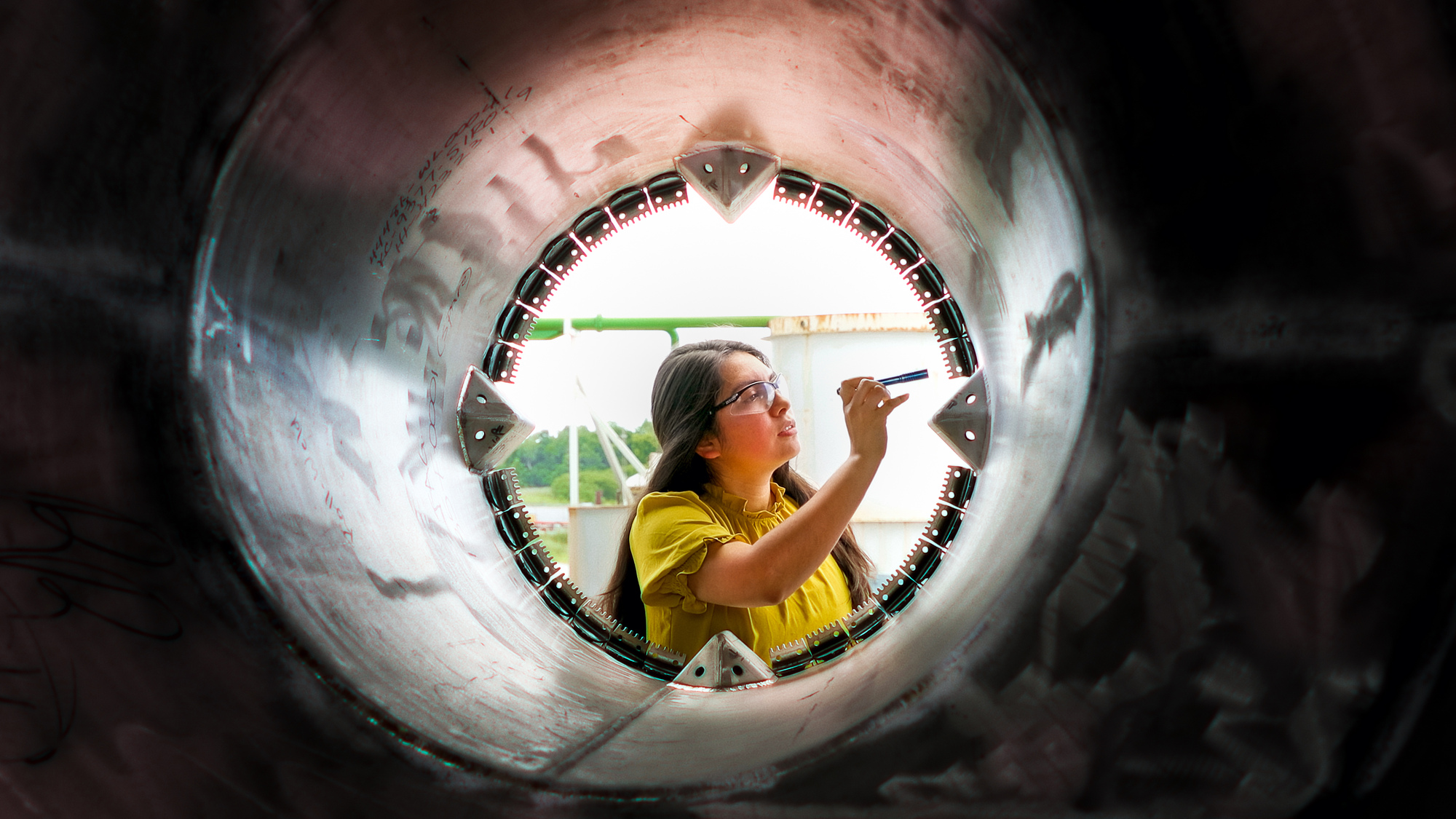 Zero-Escape Quality Control Program
Our customers set the highest expectations of quality manufacturing and safe operation—and so does Zeeco. Quality workmanship and safe work practices are not just a part of doing business. They are vital components of our core values, and we are proud to demonstrate them every single day.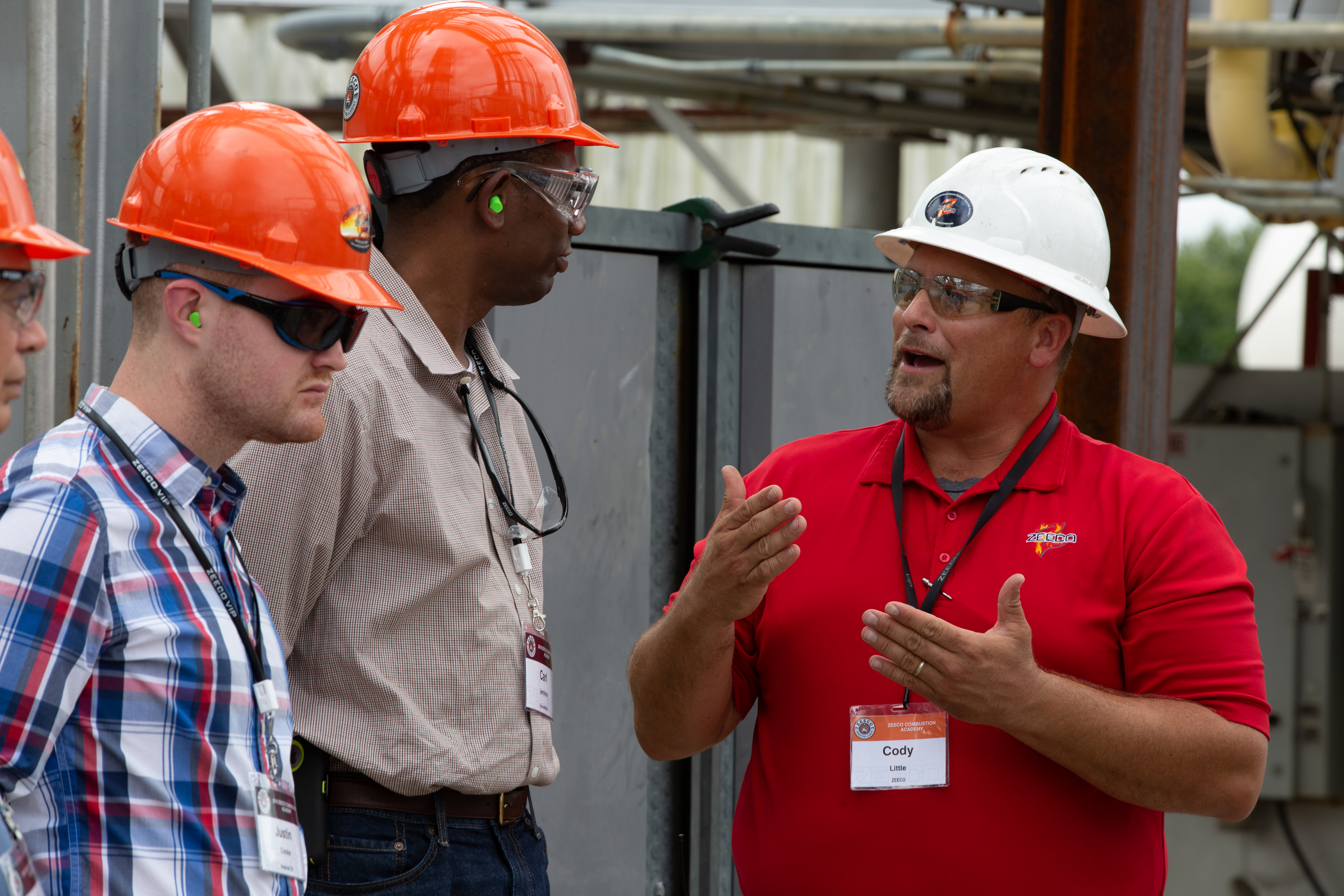 Health, Safety, & Environment (HS&E)
Zero-Incident Safety Culture
At Zeeco, we take safety seriously. Our Health, Safety, and Environment (HS&E) group is a unified team committed to an accident-free workplace for employees, visitors, and customers. Our overriding goal is to foster new mindsets and behaviors that prevent accidents, injuries, and equipment damage before they occur. We also look to demonstrate our stewardship to the environment, from the systems we engineer to the way we manufacture them.
Our Safety Culture
Creating a zero-accident safety culture doesn't happen overnight. But for over 40 years Zeeco has worked tirelessly to implement a culture that encourages, empowers and motivates employees to build an even safer work environment by alerting us to potentially dangerous situations, conditions, or work routines.

Zeeco's safety programs are developed – and evolved – by leaders and employees working synergistically, so that everyone maintains a sense of ownership and accountability. We implement world-class practices that eliminate at-risk behaviors and blind spots; identify and mitigate hazards; conduct daily "tool box" talks; host regular and ongoing training; and provide our employees with the tools necessary to ensure safe operation, every day.
Our Safety Value
At Zeeco, HS&E is an everyday value – not just a priority – and this value prevails throughout every level and location of our company. Our customers set high expectations for safety practices, so Zeeco takes safety to the ultimate degree.
Tools for success
Zeeco's practical management system is designed to be a realistic representation of how we operate. These programs focus on regulatory compliance, as well as our company and customer expectations.
Tracking and trending
Training
Hazard identification
Risk management
Investigations
Observations
Policies
Leadership
Support staff
Customers
Vendors
Experience
Our Safety Transparency
As with any organization that leads its industry, achieving world-class status can only be realized through an open and honest understanding of what works and what doesn't. We communicate our findings with Zeeco employees so they understand how HS&E impacts us all, no matter where we work and call home.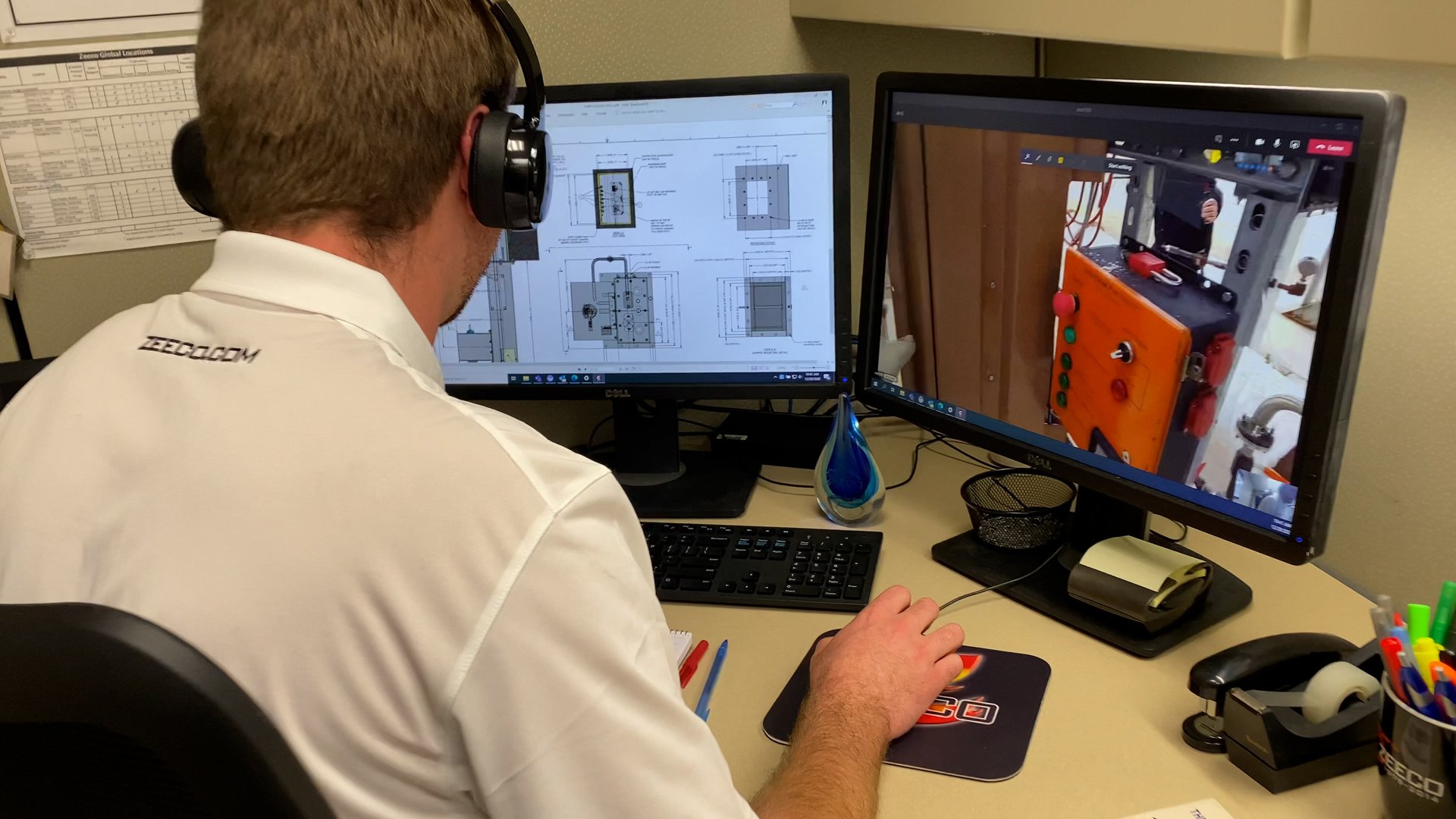 As digital technologies progress, they play increasingly essential roles in advancing safety, communication, and productivity for the industries we serve. At Zeeco, we harness these innovations to provide safe, value-driven solutions for our customers.
Extended/Augmented Reality
Global travel can be expensive, time-consuming, and challenging to navigate - especially in the current climate. That's why we've made it easier than ever to bridge the gap with ZEECO Global Bridge. Explore how we utilize mixed reality technology to deliver on-site services and support around the world at a moment's notice.
Virtual Combustion Tests & Inspections
The quality of our customer experience is a top priority and we continuously pursue new opportunities to improve the level of service our global customers receive. To build on this commitment, we made our world-class combustion testing and quality inspection capabilities remotely accessible. Customers can now participate in inspections, monitor equipment performance, and analyze real-time combustion test data remotely via livestream.