Zeeco Global Locations
Sales, Manufacturing, and Testing Facilities
OUR GLOBAL CAPABILITIES
Click a dot below for more info on a specific global location.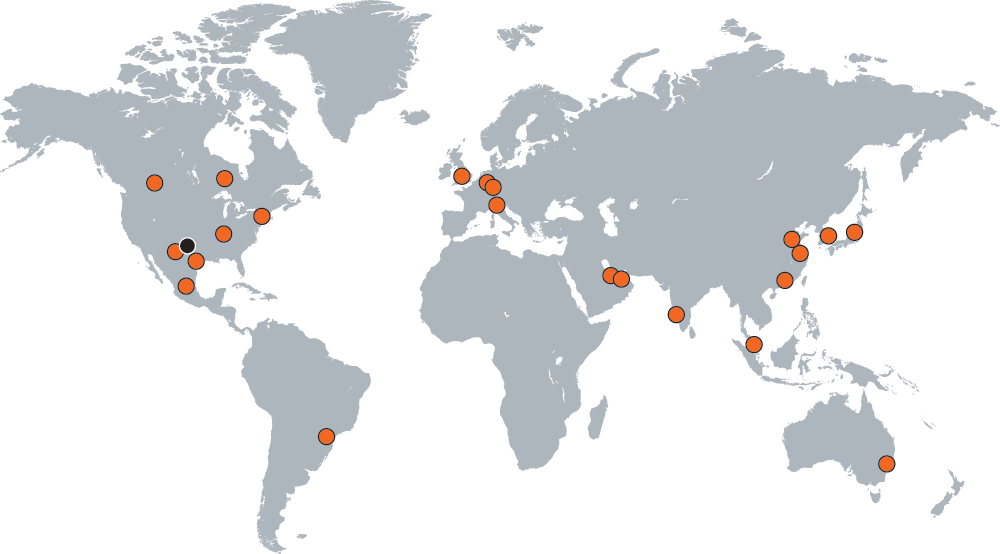 Zeeco personnel in each global location may speak various languages depending on the region. When you contact us, please clarify your primary language so we can assist you more effectively.
Don't see your location represented on the map above? Check the list below or contact your nearest Zeeco location, and we will connect you with the right person to handle your inquiry.
Refine by:
TEST FACILITIES
MANUFACTURING FACILITIES
AIR FLOW MODELING LABORATORIES
ISO CERTIFICATION
Clear Selection
NORTH AMERICA

WORLD HEADQUARTERS
HOUSTON, TX, USA
MIDLAND, TX, USA
LOUISVILLE, KY, USA
CONNECTICUT, USA
CANADA
MEXICO

SOUTH AMERICA

BRAZIL

EUROPE

ITALY
LUXEMBOURG
ZEECO EUROPE (UK)

MIDDLE EAST, AFRICA, INDIA

INDIA
SAUDI ARABIA

ASIA PACIFIC

KOREA
AUSTRALIA
CHINA: SHANDONG
CHINA: SHANGHAI (PUDONG)
CHINA: SHANGHAI (PUXI)
JAPAN
SINGAPORE
MARKETS WE SERVE
Zeeco can provide combustion and emissions control solutions wherever hydrocarbon processing takes place. Customers can find our equipment and services in upstream, midstream, and downstream oil and energy processes.
We also offer products and support for other industries and applications such as tank/terminal loading and storage, pharmaceutical, carbon black, pulp & paper, steel, food processing, and more.