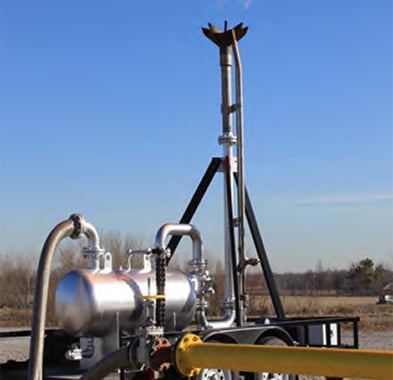 Zeeco Combustion Rentals
Whether your application requires a full plant emergency relief flare or a portable incinerator while maintenance is performed on a permanent unit, Zeeco offers combustion rental equipment at your disposal. Our open flaring equipment ranges from small skid and trailer mounted flares to 300 ft tall elevated systems. Our enclosed vapor combustor, incineration, and flare systems can dispose of anywhere from very small process vent streams to 30,000 cfm contaminated air streams.
While our range of capabilities is vast, the common features with all Zeeco rental equipment is ease in installation and simple customer interface. Contact us today, our Combustion Rental Group engineers are ready to provide you with a detailed review of your application right now.
Call +1 918 893 7795 for your Rental needs.
Common Applications:
Emergency Flare Replacement
Flares for Day to Day Equipment Maintenance
RTO/Incineration and Thermal Oxidation System Backup and Replacement
High Pressure Blow-Downs (Pipeline and Product Storage)
Low Pressure Tank Degassing
Loading Operations (Gasoline and Others)
Vapor Control
VRU/Vapor Combustor Backup
Combustion Equipment to Meet New Stream Regulations
Capacity Upgrades for Existing Systems
Performance Enhancement for Existing Systems
Well Testing and Drilling
Soil and Ground Water Remediation
Equipment Available:
Large Elevated Flares (up to 300 ft)
Trailer Mounted Flares
Skid Mounted Flares
Air Assisted Flares
Incinerators
Thermal Oxidation Systems
RTO Backup Systems
Enclosed Flares
Vapor Combustors
Biogas Flares for Landfills and Digesters
Knock Out Drums, Liquid Seals and Detonation Arresters
And More…
Combustion Rentals Inquiry