Subscribe to Zeeco Updates
CATEGORIES:
<<< BACK TO BROCHURES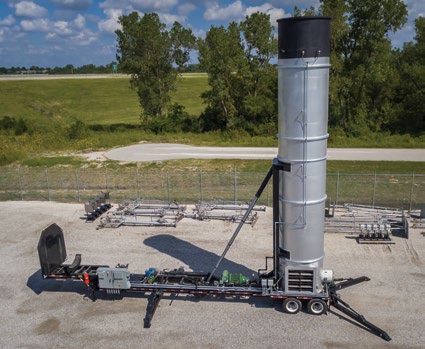 Zeeco maintains a rental fleet of skid and trailer-mounted vapor combustor units (VCU) staged around the world and available on demand. Designed with the end user in mind, our rental vapor combustors offer easy operation and installation within a matter of hours. Whether you need a simple skid-mounted design, or a fully-automated, trailer mounted ZEECO® Zephyr™, users depend on our proven, reliable smokeless solutions.


Wide range of applications.
Each Zeeco vapor combustor is engineered to operate safely through a wide range of relief conditions. From low flow and low pressure hydrocarbon gas streams to contaminated air streams, Zeeco's high capacity rental vapor combustor systems provide clean flames, consistent smokeless operation, and high destruction efficiencies.


Meet regulatory requirements.
Zeeco's vapor combustors are fully enclosed to efficiently use both combustion and quench air. The combustion enclosure maintains precise chamber temperatures and ensures optimal destruction and removal efficiencies (DRE) to meet or exceed the most stringent clean-air standards. Our vapor combustor can be fully automatic or manually operated, depending on your specific needs and regulatory requirements. Typically used in liquid loading and tank degassing operations to destroy harmful emissions that emanate from fumes, vapor combustors fill diverse roles and can be used in multiple applications while maintaining optimal efficiency.


Design Features
Wide range of flow rates, including up to 4800 gpm for vapor loading
Destruction efficiencies up to 99.99% with sample ports for testing
Full turndown capability
Smokeless performance from 0% to 100% operation
Completely hidden flame and zero emitted radiation
Flame arrestors on inlet for flashback prevention
Automatic on/off operation for loading facilities based on pump operations
Interchangeable tip designs for broad relief conditions
Staged air assist by forced draft to facilitate better mixing and stoichiometric combustion at the burner assembly
Natural draft dampers for chamber combustion air and temperature control of vapor combustor
Internal ceramic fiber refractory lining
Thermowell and thermocouple for temperature monitoring of combustion chamber
Fully automated controls system for automatic flame ignition and monitoring with electric or solar power
Retractable pilot can be removed and maintained without shutting down
DOT-compliant trailer-mounted option for easy transportation
Trailer option with hydraulic outriggers and stack lift system for simple setup without need for cranes
Skid mounted option for longer-term usage periods
Can be used as a thermal oxidizer, flare, or vapor combustor to meet local regulations and existing permits
Options Available
Anti-flashback burner tips for flashback protection
ZEECO Guardian™ for wireless monitoring and operation
ZEECO ProFlame™ flame scanners
Flame and detonation arrestors
Assist gas for maintaining internal operating temperatures for high DRE
Forced draft fan for smokeless operation
Vapor blower for low/no pressure gas operation
Solar-powered ignition system
Auto or manual spark ignition
Knock out drums and instrumentation
Integrated dock safety system loading applications
Download Brochure
<<< BACK TO BROCHURES