Subscribe to Zeeco Updates
CATEGORIES:
BACK TO BROCHURES
Whether you operate a truck, marine or rail car loading terminal, or storage tank facility, you already know fugitive emissions from the product loading process and the tanks can represent losses of a valuable product and present a hazard to the environment and operation.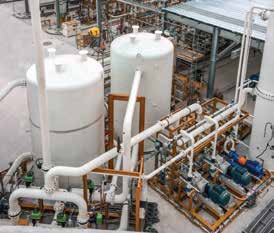 Zeeco's Vapor Recovery Systems minimize emissions from the loading of trucks, ships, barges, and tanks, and return these valuable vapors to the loading or storage operation. Vapor recovery systems significantly reduce the loss of profitable products with recovery efficiencies up to 99%-plus and recovery rates between 1 to 2 liters per 1,000 liters loaded. In many applications, return on investment can occur within a few short years.


A range of systems to meet any application.
Zeeco offers a range of vapor recovery systems based on varying vapor inlet capacities to fit specific applications, from the smallest truck-loading terminals to the largest marine-loading operations. Our flexible approach to client requirements and engineering standards enables us to offer customized systems for applications both large and small.

Zeeco's vapor recovery systems also meet the strictest emission compliance requirements around the world. From the lowest flow rates found in single truck-loading applications to the largest ship-loading operations, Zeeco designs vapor recovery systems that control emissions from 35 mg/L down to 1 mg/L.


Typical products recovered.
The impact of steam injection at the flare tip exit point is critical for more than just smokeless performance. The steam also "shapes" the flare flame in high wind conditions, eliminating the downwind flame impingement seen on many non-assisted flare tips. The steam also helps lower the radiation level at grade by lowering the emissivity of the flare flame and providing vertical energy to keep the flame erect in a crosswind. The HCL series reduces the overall steam injection noise level by 10-12 dBa compared to conventional steam flares. The muffler absorbs much of the noise produced from the steam nozzles while directing the noise upward, rather than down or outward to the surrounding area. The HCL series flare tip assembly comes standard with the largest steam/air injection tubes available. Each steam/air tube is equipped with investment cast inspirators on the inlets as well as highly reinforced investment cast discharge nozzles on the tube outlets.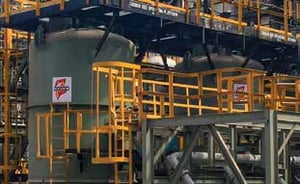 How Zeeco's vapor recovery process works.
Zeeco's vapor recovery systems use the highly versatile and efficient process of adsorbing hydrocarbons onto activated carbon. This well-known technology is widely accepted as the Best Available Technology (BAT) in a wide range of applications, with a turndown capability of 0 to 100% of flow and inlet hydrocarbon concentrations.

The adsorbed hydrocarbons are recovered from the activated carbon through the use of a vacuum pump system and re-absorbed into a circulated stream of absorbent, returning the hydrocarbons back to the loading operation or storage facility. Either liquid ring, dry, or sliding vane vacuum pump types can be used.
Download Brochure
BACK TO BROCHURES