ZEECO® GB™ Low-NOx Power Burner Retrofits
Subscribe to Zeeco Updates
CATEGORIES:
BACK TO NEWS
By Zeeco Inc. on June 21, 2023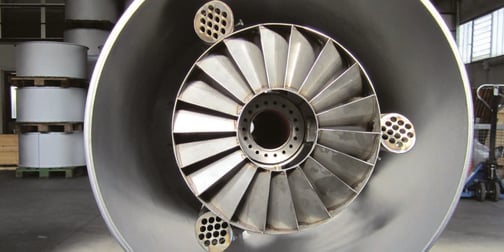 Low-NOx burners are used to introduce heat into boilers and produce steam across a wide range of industries. From refineries and petrochemical plants to power or pulp and paper plants, burner retrofits in power boilers are an economical solution to achieving lower NOx levels and higher efficiency with existing equipment. Considering the project goals for a specific retrofit, designing ultra-low-NOx burners that fit into existing burner cutouts may be challenging. Designing burners with flame patterns or burner profiles that can operate properly within existing space and limitations are commonly expressed end-user concerns. With that in mind, Zeeco designs GB low-NOx burner systems and takes great care to ensure these systems fit within a plant's boiler and operating system for years of successful performance. The plant will operate these burner systems following Zeeco's commissioning of the new equipment, and we ensure the design will work within your plant's requirements.
ZEECO GB Burners Solve Industry Issues
Zeeco developed the low-NOx GB boiler burner system to be specifically compatible with a wide range of existing boiler and operational requirements. The GB burner series operates effectively with lower excess air and Flue Gas Recirculation (FGR) requirements while still delivering stable combustion with low-NOx performance. Its simple controls eliminate the need for special burner management or combustion control systems.
Through physical airflow modeling and computational fluid dynamics to model specific operating and firing conditions against actual equipment design, Zeeco's GB burner series can be tailored to meet an organization's unique combustion needs and to comply with regulatory and emission requirements on local and national levels.
Applications
ZEECO GB power burners fire a wide variety of fuels, including natural gas, #6/#2 fuel oils, hydrogen, waste streams, and other fuel liquids. They can be equipped for multi-fuel applications or as firing support for low-Btu fuels at a higher efficiency, with lower excess air and FGR requirements, and with less boiler impact.
GB burners can be applied to all boiler types, including package, industrial, utility, and fluidized bed/stoker boilers, and they can be designed for heat inputs in excess of 360 MMBtu/hr per burner. Additional applications can include once-through steam and hot water generators.
Zeeco's pre-engineered GB burner systems are designed for installation in both new and retrofit applications in any boiler. New burners can be commissioned with minimal pressure part modification, allowing minimum field start-up time after installation.
Case Study 1 – Power Plant at a University:
Situation: A steam plant at a university needed to update its burners and boiler control system to meet a 60% NOx emission reduction goal.
Original Equipment: Four burners that operate at 400ºF combustion air and low natural gas supply pressure, plus an antiquated control system.
New Equipment: Four ZEECO GB low-NOx dual fuel burners (natural gas and #2 oil). The in-duct combustion air heater was replaced with an economizer to utilize available flue gas heat. An external fan was added to further reduce emissions through FGR. Zeeco also supplied a new burner management system and other controls to monitor the plant's four boilers better. Zeeco also incorporated an entirely new control room for the plant.
Result: By properly planning the workflow, Zeeco supplied, delivered, and commissioned the new equipment with a NOx emissions reduction guarantee from 0.2 lb/MMBtu to 0.08 lb/MMBtu
Case Study 2 – Power Plant at a Hospital Complex:
Situation: Customer required a turn-key package boiler to replace existing boilers. New burners and fuel trains had to be low-NOx burners that could integrate with a third-party control system and meet all applicable code requirements.
Original Equipment: Over 50-year-old boilers utilizing antiquated #6 fuel oil burners to provide steam to the hospital complex.
New Equipment: Custom combustion system utilizing dual-fuel ZEECO GB low-NOx burners to deliver natural gas and #2 fuel oil) to three D-style package boilers.
Result: After start-up and commissioning, emissions while firing natural gas were NOx less than 24 ppm and CO less than 100 ppm. Emissions while firing #2 fuel oil were NOx less than 37 ppm and CO less than 100 ppm. Zeeco's GB burners also achieved the guaranteed steam capacity and boiler efficiency of 84% on natural gas and 87% on #2 fuel oil.
Case Study 3 – Power Plant at a Public Administration Building:
Situation: Stringent environmental regulations mandated the need to reduce power plant emissions. Existing burner management and control systems were in danger of obsolescence, and access to and maintenance of relevant equipment was challenging due to the placement of abandoned coal-firing equipment.
New Equipment: Four ZEECO GB dual-fuel low-NOx burners with ZEECO #2 fuel oil guns, high energy igniters, and ZEECO ProFlame™ flame scanners.
Result: The upgrades to existing firing equipment improved availability and achieved significant emissions reductions for NOx and CO emissions levels. The improved layout of new fuel oil and natural gas valve trains, and the removal of obsolete coal-firing equipment, also simplified the ease of access for observation and maintenance.
BACK TO NEWS