Zeeco Named Cowboy100 Honoree
Subscribe to Zeeco Updates
CATEGORIES:
BACK TO NEWS
By Zeeco Inc. on March 2, 2023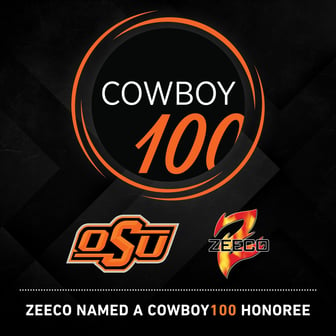 The Riata Center for Innovation and Entrepreneurship, in conjunction with the Oklahoma State University Foundation, is set to host the Cowboy100 Honoree Gala to celebrate the fastest-growing and top 10 revenue-generating OSU graduate-owned or -led businesses on March 31 at the Wes Watkins Center in Stillwater.
The Cowboy100 recognizes the business and leadership achievements throughout OSU's alumni base while raising funds for the Riata Center's student programs and activities. It also serves as an additional resource for students to engage with industry leaders and for the Riata Center to become the reference point for entrepreneurship throughout the university.
The Cowboy100 experienced tremendous growth this year, with 95 businesses being honored. This is up from last year's inaugural event, which had 76 businesses honored. Of these 95 Cowboy-owned or -led businesses, 57 are new honorees this year.
"We are happy to release the list of the 2023 Cowboy100 honorees," said Marc Tower, assistant dean for innovative education and growth in Spears School of Business. "The quality and diversity of this group is inspiring. We have companies and leaders from multiple industries and from companies large and small. It is exciting to celebrate and share the hard work and success of the 126 OSU graduates and Cowboy leaders! We look forward to celebrating their achievements on March 31."
The alphabetical list of the 95 Cowboy-owned or Cowboy-led businesses to be recognized at the Cowboy100 are as follows:
24OurCare
405 Vet Animal Hospital
A.C. Owen Construction
Air Hygiene International, Inc.
Alert Rental Software
All American Pewter, Inc.
Bedlam Law Firm
Big Elk Energy Systems
Boadie L. Anderson Quarries, Inc.
Bowers Trucking & Logistics
Bridgecreek Investment Management, LLC
C4 Industrial Inc.
Cain & Cain, Estate Planners for Life
CMR
Cochon Wines
Community Escrow & Title Co.
Community Infusion Solutions
Cooperative Processing Resources
Coterie Media
Cowboy Driving Academy
Credera
Darms Lane Wine
DeWitt, Paruolo, & Meek, PLLC
Direct Kicks, LLC
Dream First Bank
Elocin Psychiatric Services, PLLC
Embark
Evans Building Concepts
Exchange Traded Concepts
Extract Companies
Fenton Motors of McAlester
Financial Consulting, Inc.
FlexPlan Administrators
Furniture Showcase
Glenn | Partners
Gooden Group
Hartman Wanzor
Hideaway Pizza
Homes by Taber
HostBridge Technology, LLC
HSA Global
Infinite Composites
Inner Circle Vodka Bar
InterWorks
ISN
Jimmy's Egg Restaurant
Joe Smith Company
Kimray Industries
Liberty Capital Bank
Little River Energy
Magellan Executive Partners
Matt C. Sims Auction, Inc.
Medefy Health, LLC
Medical Billing Wholesalers
MorningStar Partners, L.P.
NeoInsulation
Oklahoma Joe's
Oklahoma Promo
OnCue
Payer Compass
Payne County Tree Service, Inc.
Pete's Place Restaurant
Pie Junkie
Pinnacle Petroleum, Inc.
Pinot's Palette
Pipeline Equipment, Inc.
Pyramid-Benchmark
Red Bluff Resources
Regeneris Medical
Regent Bank
Resolute PR
Retirement Investment Advisors, Inc.
Sawyer Manufacturing and Fabrication
Scuba Savvy
SNB Bank, National Association
Stephen H McDonald & Associates, Inc.
Stillwater Medical Center
Swallowing and Neurological Rehabilitation, LLC
Sweet Turns
T&C Meats
Taurex Drill Bits
The FerVid Group
Thermal Specialties
Tri County Tech
Tri-8, Inc.
Tuttle-Click Automotive Group
Twin Eagle
Utility Tri-State, Inc.
Video Gaming Technologies, Inc.
Webco Industries
Wedgewood
WeightWise Bariatric Program
Wellings + Schrader Real Estate & Auction Co.
Whisper Intimate Apparel
Zeeco, Inc.
BACK TO NEWS